Take the best parts of camping
building a campfire

roasting marshmallows and hotdogs

relaxing to the sound of nature
and take away the worst parts of camping
sleeping on the ground

planning meals so you do not anything refrigerated

having to make a long walk to get to a restroom in the middle of the night

having a leaky cold wet tent
and you get Glamping. We decided to try Glamping and after reviewing multiple options we found these luxury teepees down close to Farmville. They were extremely nice and we highly recommend them.
Our first look at the Tipi  they looked just like a regular Tipi,  very tall, covered in white, well except for they had  with an actual solid Door.
Upon entering you realize this is not your normal Tipi
How about a little kitchenette in your Tipi and you quickly realize the concrete floor is heated.
Around one corner you have a very comfortable queen size bed
Around the other corner you have a bathroom fully inside the Tipi including a really cool glass shower
And opposite the kitchenette you have a small dining table made of a piece of wood.
And what Tipi would be complete without a sitting area? It had a TV but we did not use it, although we did use pretty much all the other modern convivences.
After checking in we started our adventure with a two person kayak ride on the Sandy River Reservoir. We got our Kayak from the same place as our Tipi, Sandy River Outdoor Adventures. They were very nice hauled the kayak down the road to the parking area and dropped us off. The ride was amazing. We paddled all over the area.
After our Kayak adventure we returned to the Tipi for a campfire and some much needed relaxation.
The next day the weather was amazing, November 1st and it hit 80 degrees. We went into Farmville for a few stops. The first to pick up swimwear, the pool close to our Tipi was still opened and heated. After we headed over to High Bridge Trail for a little stroll.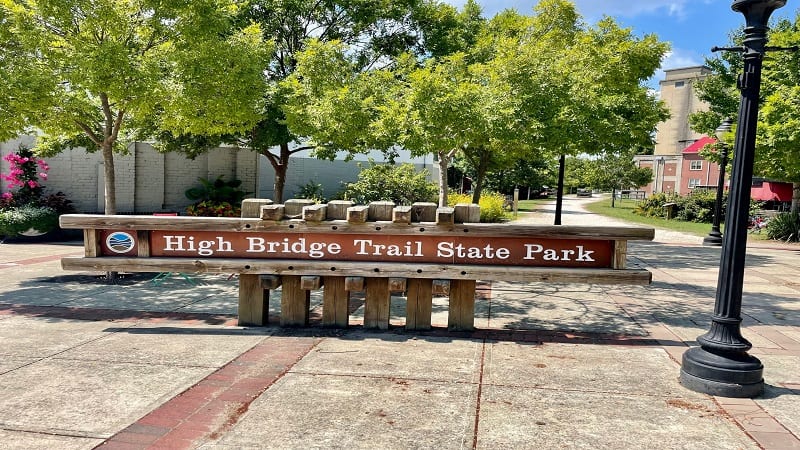 After a few thousands steps (10,000) we grabbed a bite to eat at Charley's Waterfront Cafe
The food was great and the view of the river was nice. After we headed back to the Tipi and saw an amazing sunset.
This was a great trip, and we highly recommend checking them out. Let us know if you want to book these.